| | |
| --- | --- |
| Provided By | The KC Cattle Co Team |
If you have time, I recommend using Wagyu Soup Bones to make your own beef broth the day prior to making the Chili. If you buy the beef broth instead, skip the sections entitled Beef Broth.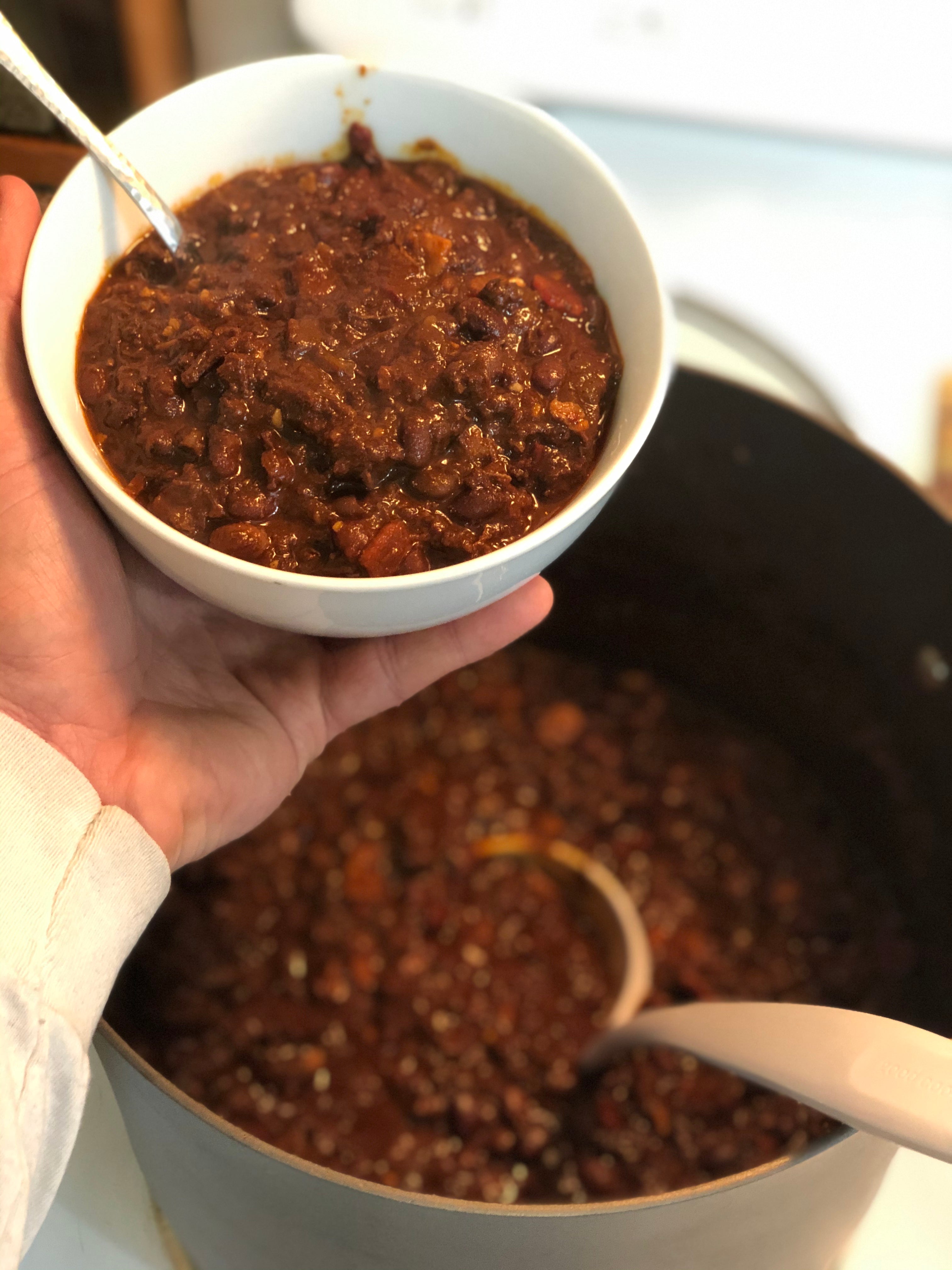 Ingredients
Chili

1 lb

2-3 lbs

1 lb

pinto or black beans

12-16

dried ancho, guajillo, pasilla or mulato chiles (use at least 2 varieties)

3/4 lb

bacon

1

large onion

8

cloves of garlic

2

tbsp paprika

2

tbsp cumin

1 tbsp

coriander

3

tbsp tomato paste

1

cup black coffee

3

tbsp molasses

1

quart (approx.) beef broth

Salt to taste

Cilantro, shredded cheese, sour cream, raw onion, etc. to garnish

Beef Broth

3-4 lbs

3

medium carrots

3

celery ribs

1

large onion

3

bay leaves

3

cloves of garlic

10

whole peppercorns

3-4

sprigs of fresh parsley

1

tsp dried thyme

1

tsp dried marjoram

1

tsp dried oregano

Water
Directions
Beef Broth
Preheat oven to 450. In a large roasting pan, bake soup bones uncovered for 30 minutes. Add chopped carrots, celery, and onion chunks and bake an additional 30 minutes (covered in foil). 
Transfer bones and vegetables to a large dutch oven or pot. Using warm water, loosen browned bits left in roasting pan and transfer pan juices to dutch oven/pot. Add the seasonings and enough cold water to cover the top of the bones. Slowly bring to a boil and then reduce heat to simmer and cover for 6-8 hours, skimming foam occasionally. 
Remove beef bones, and filter meat chunks, vegetables and seasonings through a strainer. Discard or use as desired. If using immediately, skim fat or refrigerate overnight and remove fat during next use. 
Excess beef broth (after Chili use) can be kept frozen for up to 6 months.
Chili
Soak beans in water overnight
Remove seeds from dried chiles and cut/rip into small chunks. Cover in large pot with boiling water for 1 hour adding more water if necessary. After boiling, grind to a puree to obtain the same consistency as gravy by adding the 1 cup of black coffee and 1 cup of water from the soaking beans to do so. Set aside once grinded. 
Chop the bacon into bits and fry over medium heat until crispy. Remove bacon and set aside until the very end. Add the Wagyu Ground Beef (salting as it cooks) to the bacon grease and brown over medium heat until complete and set aside. Turn up the heat, oil the pan and add Wagyu Stew Meat, in 2 separate batches if necessary (salting as it cooks). 
Once the Wagyu Ground Beef and Wagyu Stew Meat are ready, add to the large pot with the  diced onion and cook for 10 minutes, stirring often. As you add each of the next 6 ingredients, stir each one in individually and let cook for 1-2 minutes. Add the garlic, beans, paprika, cumin, coriander, and salt, stirring to combine each time. 
Add the chile puree and tomato paste and stir to combine well. Add the molasses and enough beef broth (roughly 1 quart) to cover everything so it is thin like soup. Stir to combine well, bring to a simmer and cook for 3 hours, stirring occasionally. Have the pot half covered by the lid so the end result cooks down and thickens. 
Once the beans are tender, it's done! Add the bacon to the chili and serve with rice or cornbread and top as your desire!