Wagyu Meatball Sub on Roasted Garlic Bread with Cashew Pesto
---
Provided By

Ryan Janzen

Prep Time

30

Minutes

Cook Time

2

Hours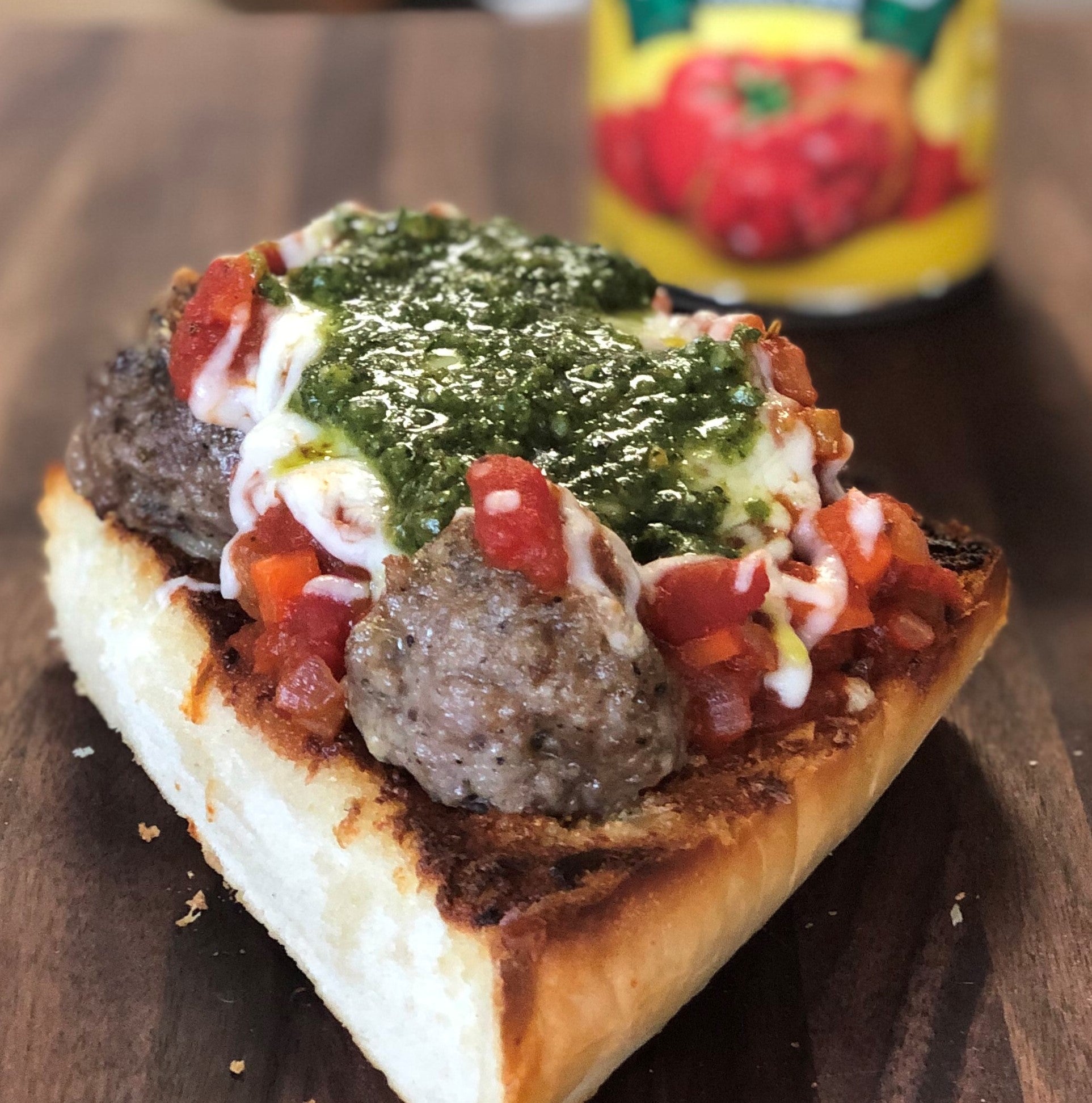 Ingredients
Meatballs

2 lbs

1/2 cup

Italian Bread Crumbs

1

Egg

2 Tablespoons

Italian Seasoning

Tomato Sauce

2 Tablespoons

Olive Oil

1

Onion

2 Stalks

Celery

2 Sticks

Carrot

4 Cloves

Garlic

1x

14.5oz Can of Petite Diced Tomatoes

1x

14.5oz Can of Tomato Sauce

2 Tablespoons

Sugar

2 Tablespoons

Italian Seasoning

Cashew Pesto

3 Cups

Fresh Basil

1/2 Cup

Cashew Nuts

1 1/2 Cup

Parmesan Cheese

4 Cloves

Garlic

3/4 Cup

Olive Oil

Roasted Garlic Bread

1 Loaf

Italian Loaf Bread

2 Bulbs

Garlic

2 Tablespoons

Olive Oil

2 Sprigs

Rosemary

1/4 Teaspoon

Kosher Salt

1/4 Teaspoon

Ground Pepper

2 Sticks

Butter (at room temperature)

1 Cup

Mozzarella Cheese
Directions
The Meatballs
In a bowl, mix KC Cattle Company ground Wagyu beef, half a cup of Italian Bread Crumbs, one egg, and two tablespoons of Italian Seasoning. Mix until all ingredients are well incorporated. Roll meat mixture into one-ounce portion meatballs (about the size of a walnut) and place in a greased 9x13 baking dish. Put the baking dish in a 350-degree oven for 30 minutes.
The Sauce
Place a pot over medium heat and add two tablespoons of olive oil. Finely dice onion, celery, carrots and garlic. Sauté onions, celery, carrots and garlic in the preheated pot for 4 to 6 minutes until everything begins to soften and onions become translucent. Reduce heat to low. Add one can of Petite Diced Tomatoes and one can of Tomato Sauce. Stir in sugar and Italian Seasoning. Allow sauce to simmer for 12 to 15 minutes. Add salt and pepper to taste.
The Pesto
Grate a cup and a half of parmesan cheese and set aside. In a dry pan, place half a cup of cashews over medium heat. Toast cashews for 3 to 4 minutes until they become aromatic. In a blender or food processor, add three cups of fresh basil leaves, toasted cashews, grated parmesan cheese and garlic. Turn the blender on and begin to slowly drizzle in olive oil. Turn the blender off, scrap the sides and add salt and pepper to taste. Turn the blender on again and allow to run another 30-60 seconds until pesto is smooth and everything is well incorporated.
The Bread
Soften two sticks of Butter to room temperature (leaving the butter on the counter overnight works well). Using two large bulbs of garlic, cut the top of the bulb off to expose the individual cloves. Place each bulb on a piece of aluminum foil. Drizzle each bulb with a tablespoon of olive oil and sprinkle with salt and pepper. Place a sprig of rosemary on each bulb and wrap the now oiled and seasoned bulb in foil. Place on a cookie sheet or pie pan and place in a 400-degree oven for 45 minutes. Once the garlic bulbs have finished roasting in the oven, allow garlic to cool before unwrapping the foil and squeeze the roasted garlic cloves in to a bowl, remove any garlic skins. Add the two sticks of softened butter and mix together. Cut the Italian loaf in half, length ways. Spread the roasted garlic butter liberally on both halves of bread, put bread on a cookie sheet, buttered side up, and place in a 400-degree oven for 12-15 minutes until toasted and golden brown.
Assemble
Spread cashew pesto on roasted garlic bread. Add cooked Wagyu meatballs and tomato sauce. Top with freshly grated mozzarella cheese. Place open faced sandwich on a cookie sheet and place under a broiler for 1 to 2 minutes until cheese is melted.