Berkshire Pork Belly Burnt Ends
---
Provided By

KC Cattle Co's Tyler Hines

Prep Time

30

Minutes

Cook Time

4

Hours

Servings #

6
Traditional burnt ends come from the "point" of a whole brisket. These Berkshire Pork Belly Burnt ends give our Wagyu Brisket Burnt Ends a run for their money for half the price and a third of the smoking time! Perfect for an appetizer to impress guests, or to make into a meal for the family.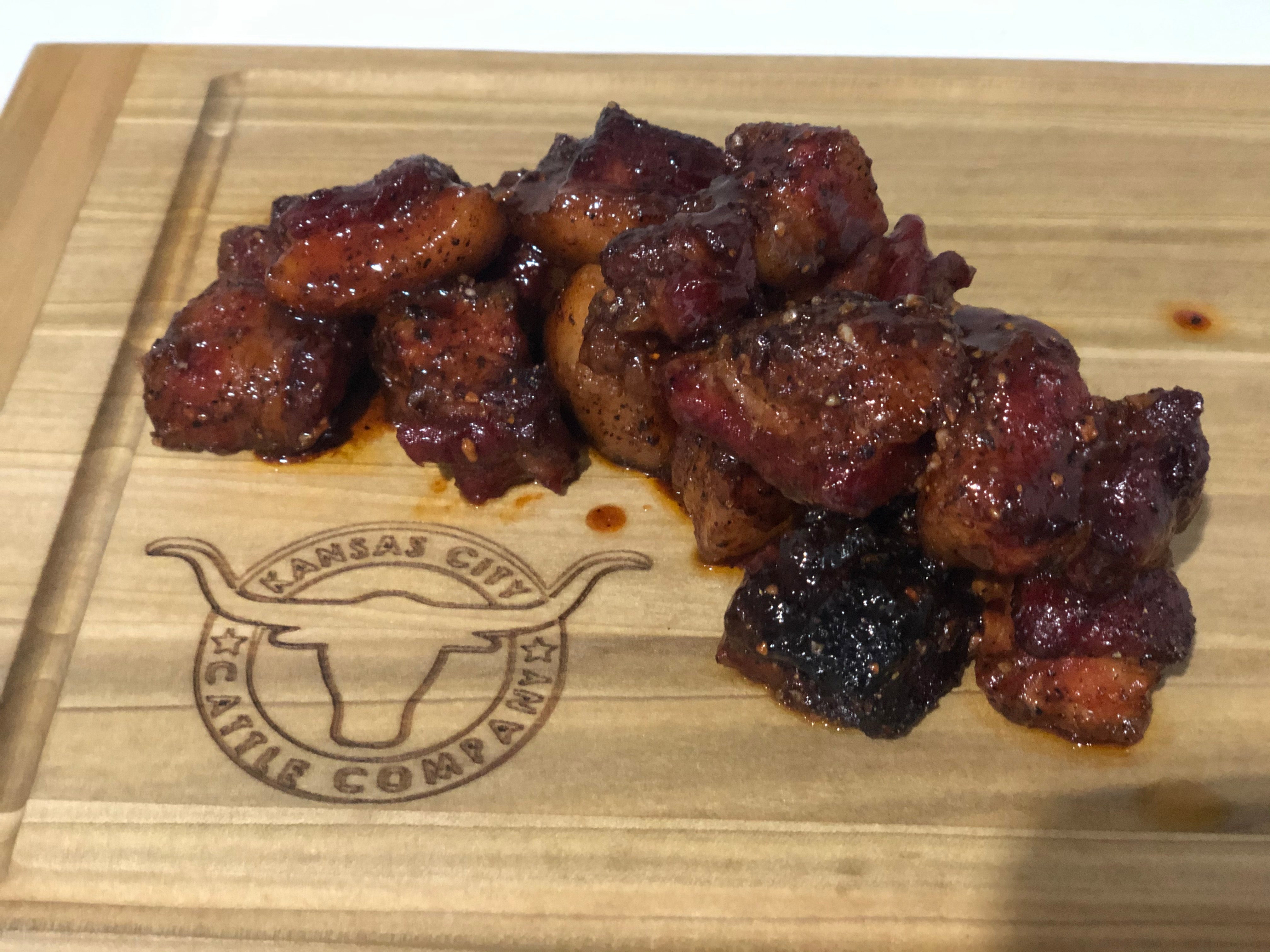 Ingredients
We used a 4 lb pork belly for this recipe. Be sure to adjust ingredient quantities accordingly with a bigger size

1 cup

3 tbsp

2 tbsp

olive oil (as much as you prefer)

2/3 cup

brown sugar

2 tsp

chili powder

1 tsp

hot sauce of choice

1 1/2 tbsp

black pepper

4 tbsp

butter

1/3 cup

honey
Directions
Gather your ingredients

Cut your pork belly up into 1 - 1 & 1/2 inch cubes. Toss in a mixing bowl with olive oil

The olive oil will help your rub stick to the burnt ends so make sure you use enough!

Combine your KCCC seasoning, bourbon smoked salt, brown sugar, black pepper and chili powder in a small mixing bowl

Roll your oiled pork belly cubes in your rub (similar to how you would a Snickerdoodle cookie) and place off to the side on a plate or tray

Place your seasoned pork belly cubes on your smoker spaced apart at 250

We placed ours on a smaller, upper rack from the smoker to separate from the main grate, but you can place yours on a wire cooling/baking rack, or right on the grates

Take a moment and just appreciate how delicious these are going to be

Smoke for 2 & 1/2 hours at 250 or until they achieve a nice red bark

Time to make your sauce! Combine your KCCC BBQ Sauce, honey and melted butter in a dish

Toss your burnt ends in the sauce to give them an even coat and place in an aluminum pan

Cover and return to smoker for an additional hour

Uncover and smoke for 15-30 more minutes to set the sauce

Take another moment to admire them

Enjoy!