Provided By

Patrick Montgomery

Prep Time

15

Minutes

Servings #

8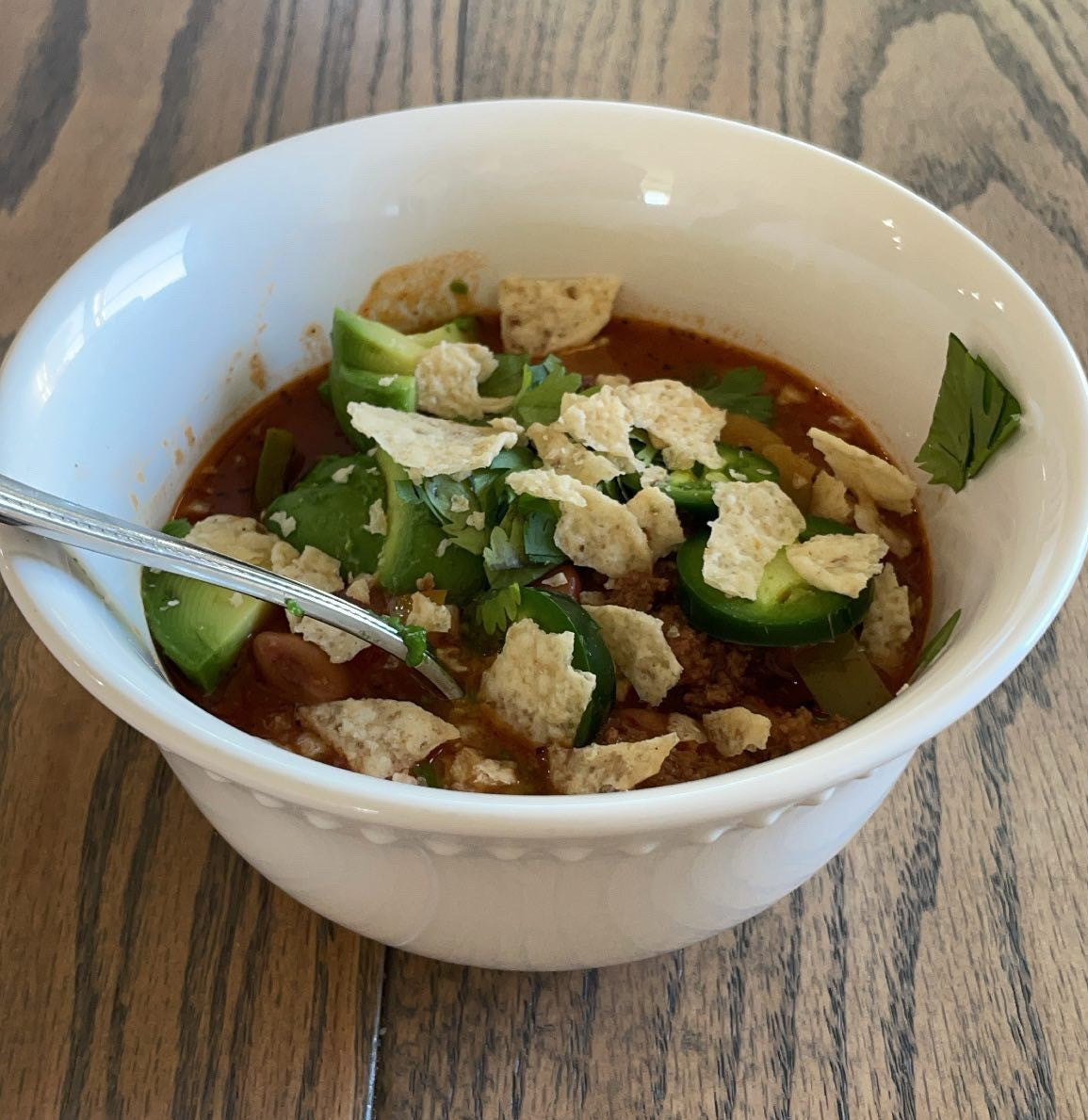 Ingredients
1 TBSP Cumin

1 TBSP Chili Powder

Sea Salt to taste

1 TBSP Butter

1 LB

1 LB

1 LB

1 Green Pepper

1 Yellow Pepper

1 Red Pepper

2 cloves Garlic

3 Jalapenos

1 Beer (something with good flavor)

1-32oz container Beef Broth

Two 16oz cans Pinto Beans

One 6oz can Tomato Paste

One 32oz can Dice Tomatoes (regular)

1 Bunch Cilantro

1 Avocado

Container of sour cream for topping your chili

Bag of Tortilla Chips
Directions
1. Heat Dutch oven on stove to medium-high heat.

2. Preheat pellet smoker to 300 degrees F.

3. Pull chorizo, ground beef, and kabob meat to allow to come to room temp.

4. Dice green pepper, yellow pepper, red pepper, onion, and jalapeno (seeded or un-seeded depending on how spicy you want it) into large pieces. After dicing veggies, cut kabob or stew meat into 0.5"x0.5" pieces.

5. Once Dutch oven is hot, add butter. The butter should sizzle and melt very quickly (if using a cast iron, the cast iron should be smoking). Now, add your kabob meat to sear it. About 1 minute per side.

6. Reduce heat to medium- low and add your chorizo and ground beef. Mix the ground meat together. Allow all meat to cook in fat (DO NOT DRAIN!). Once ground meat is browned, remove ground beef, chorizo, and kabob meat from the Dutch Oven. Leave the fat in the pot!

7. Now add your peppers, onion, and garlic to the beef fat to cook. Mix up your veggies in the residual fat left behind from meat. Allow veggies to to cook down for 5 – 6 minutes. While veggies are cooking, remove the lids from cans where needed. 

8. Add cumin, chili pepper, and salt (I used about a TBSP for each). You don't need a ton because the Chorizo is already heavily seasoned. Mix seasoning with veggies.

9. Now add broth, beer, beans, and the meat back to the Dutch Oven.

10. Transfer the Dutch Oven to your smoker (uncovered) and allow to cook on smoker for 30 minutes to 1.5 hours.

11. Serve chili immediately with avocado, cilantro, sour cream, and tortilla chips as garnishes. 
Directions
** Note Kabob meat is normally more tender than stew meat because it is cut from steak trimmings only. Stew meat will work fine and is normally cheaper, but slightly chewier. You could also omit these all together.
Don't have a smoker? No worries. You could easily cook in the oven for 30-60 minutes at 300-350F.