Wagyu Teres Major Marsala
---
| | |
| --- | --- |
| Provided By | KC Cattle Co's Robert Lockett |
The Teres Major, also known as the petite tenderloin, is one of the most tender cuts of beef on a cow. The Teres Major is a delightful little cut that can be cooked a number of different ways, but is best made the same way you would make a filet of tenderloin or "filet mignon". And here's the best part - they taste just as wonderful, and cost a little less! Here's one way to prepare a Teres Major that I adore.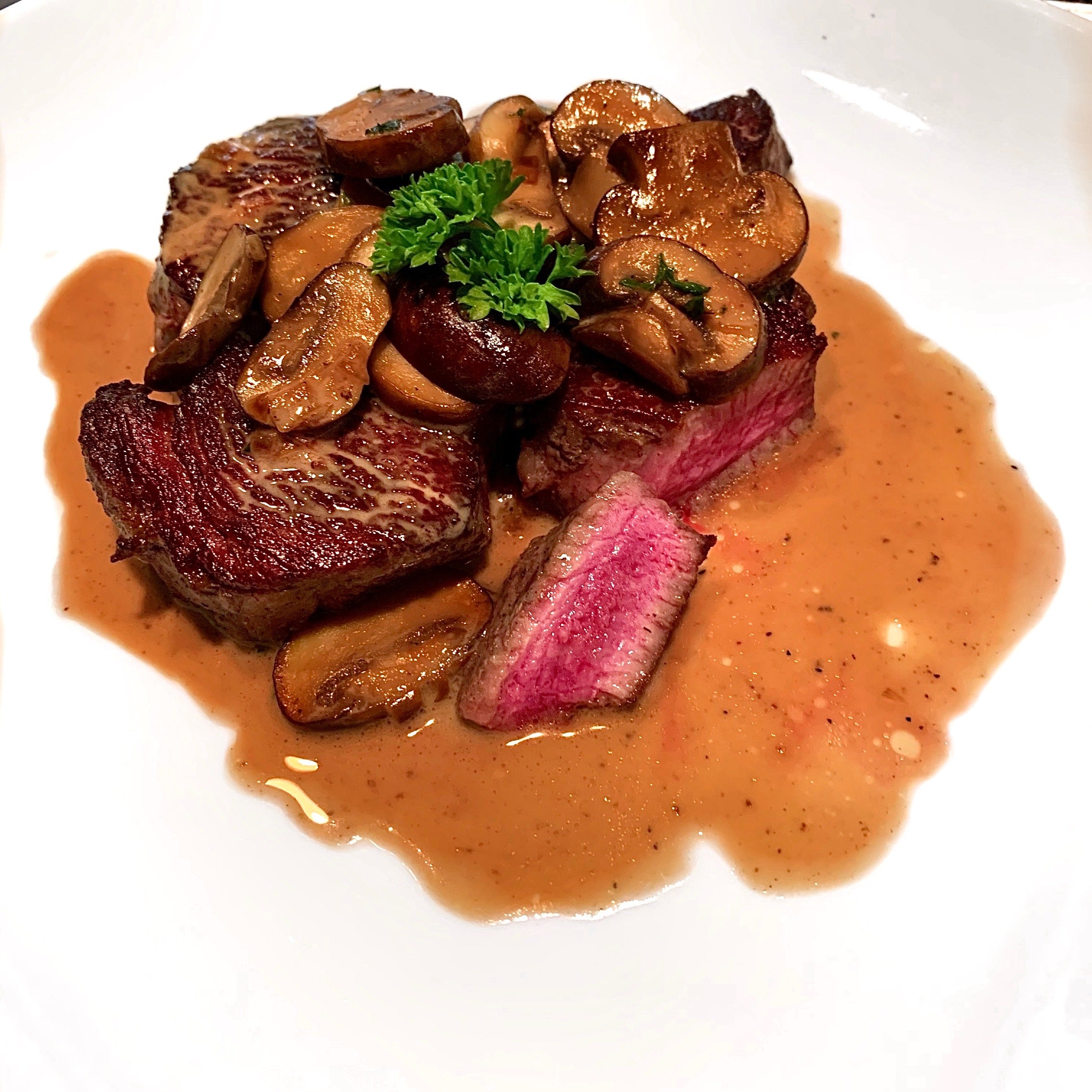 Ingredients
1

(ingredients reflect 1.5 lb cut)

Coarse Salt

Black Pepper

4 tbsp

unsalted butter

3 tbsp

vegetable oil

1 & 1/4 cup

beef broth

1 cup

Marsala cooking wine

12 oz

sliced mushrooms; cremini, minibella, or shiitake (any mushroom will work, but I prefer cremini)

2

minced Shallot bulbs (These are tough to find sometimes so 3 tsp of minced garlic will work just as well)

1 tsp

Dijon mustard

3/4 cup

heavy cream

Fresh Parsley

Tools

Cast Iron Skillet (nonstick will work but cast iron is just unbeatable!)

Sharp knife

Measuring cups & measuring spoons

Spatula

Large spoon
Directions
To prepare:
Take the Teres Major out of the fridge and lay it out on a cutting board about an hour before you cook it. This is important! Cooking a cold steak will cause the meat to tense up and you will lose a lot of the flavor!
While the beef is coming up to room temp, take some time to measure out all of the ingredients you need and have them ready close by.
When your Teres Major is no longer cold to the touch, but rather, cool - you're ready.
Bring your cast iron up to medium high heat or about 7 out of 10, and add the vegetable oil.
Cut your Teres major into 1 ¼" - 1 ½" medallions. Pat them as dry as possible with a paper towel and season generously with salt and pepper – careful not to over-do it!
When the vegetable oil has just begun to smoke, your medallions are ready to go in. Place them in and gently push them down against the skillet. It's important to LEAVE them until they are ready to be flipped for about 2 minutes. They should only be turned ONCE. (Anything above a medium rare cook with Wagyu will be very disappointing)
Once you've flipped the medallions, spoon in 4 tbsp of butter. Once it's melted, tilt your pan to one side and use a spoon to scoop up the butter and wash the medallions with it a couple times. In other words – baste!
Your Medallions are done! Set them aside and cover them with foil so they can rest and redistribute all of those wonderful Wagyu juices. DON'T drain the skillet! We will need the butter and drippings for the next part.
Turn down the heat a little (6 out of 10), and add your minced shallots or garlic, and once fragrant, add all of your sliced mushrooms and stir. Let them cook for about 15-20 minutes, or until soft.
Add the Marsala cooking wine and turn the heat all the way up. Once its begun boiling, reduce the heat to low and simmer for 3 minutes, or until it's been reduced by half and is a nice syrup like consistency.
Add the beef broth, Dijon mustard, heavy cream and parsley.
Plate your medallions and spoon over the Marsala sauce with mushrooms. Garnish with fresh parsley and ENJOY!
Extras:
For a dash of rich caramel notes: BEFORE adding your Marsala wine, add about 1/3 cup of cognac and flambé. This is NOT recommended for beginner or intermediate level home cooks!
To thicken your sauce: add a few pinches of flour until it's the right consistency for you.
This recipe intentionally does not season the Marsala sauce with salt or pepper. It's always better to start off without it and add as much as you like at the end – that way it's to your liking, and yours only!