Wagyu Top Sirloin Steak with Chimichurri Sauce and Cilantro Fries
---
| | |
| --- | --- |
| Provided By | OBX Food Guide's Micah Turbitt |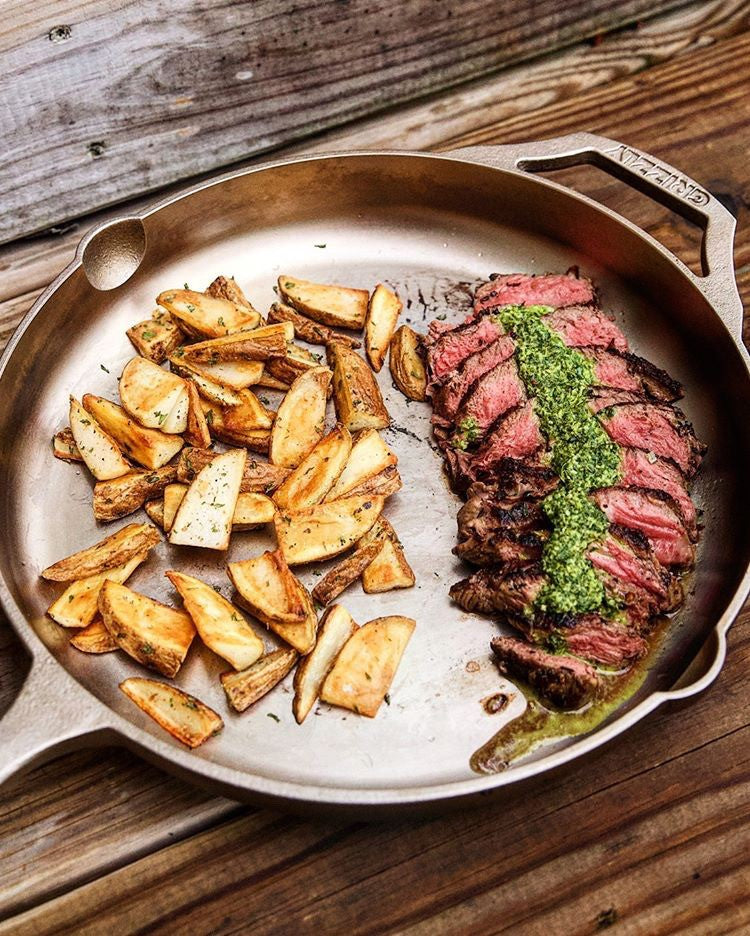 Ingredients
Chimichurri

1/4 cup

coarsely chopped parsley

3 tablespoons

red wine vinegar

4

large garlic cloves, minced (2 1/2 tablespoons)

2 tablespoons

oregano leaves

2 teaspoons

crushed red pepper

Kosher salt and freshly ground pepper

1/2 cup

extra-virgin olive oil

Potatoes

3 tablespoons

vegetable oil

2

Russet potato's cut into bite sized pieces

1 tablespoon

chopped cilantro

Salt & pepper to taste

Steak

1

1 tablespoon

vegetable oil

2 tablespoons

butter

Salt & Pepper to taste
Directions
Make the Chimichurri. In a food processor, combine the parsley, vinegar, garlic, oregano and crushed red pepper. Process until smooth; season with salt and pepper. Transfer the sauce to a bowl and pour the olive oil over the mixture. Let stand for at least 20 minutes.
Heat two pans at medium high. Start the potatoes in a wide, deep pan. Add oil to the pan. Heat to medium heat. The potatoes will take about 15 minutes to cook fully so start the steak about 5 minutes into cooking the potatoes.
Salt and pepper your steak. Add oil to your steak pan and place steak in pan. Let it get a good sear on each side. After you've flipped it once, add butter to the pan and baste the steak with the browning butter. Cook to desired temperature. Once done, take the steak out of the pan and let rest while you toss your potatoes with seasoning. (Should rest for at least 5 minutes)
Once potatoes are done, toss with chopped cilantro, salt, & pepper.
Plate everything up. Slice your steak and top with chimichurri sauce. Enjoy!