"Over the Top" Smoked Wagyu Chili
---
Provided By

KC Cattle Co's Tyler Hines

Prep Time

30

Minutes

Cook Time

4

Hours

Servings #

8
Take your Chili game to another level, literally! Our "Over the Top" Smoked Wagyu Chili will change the way you make chili forever. Check it out!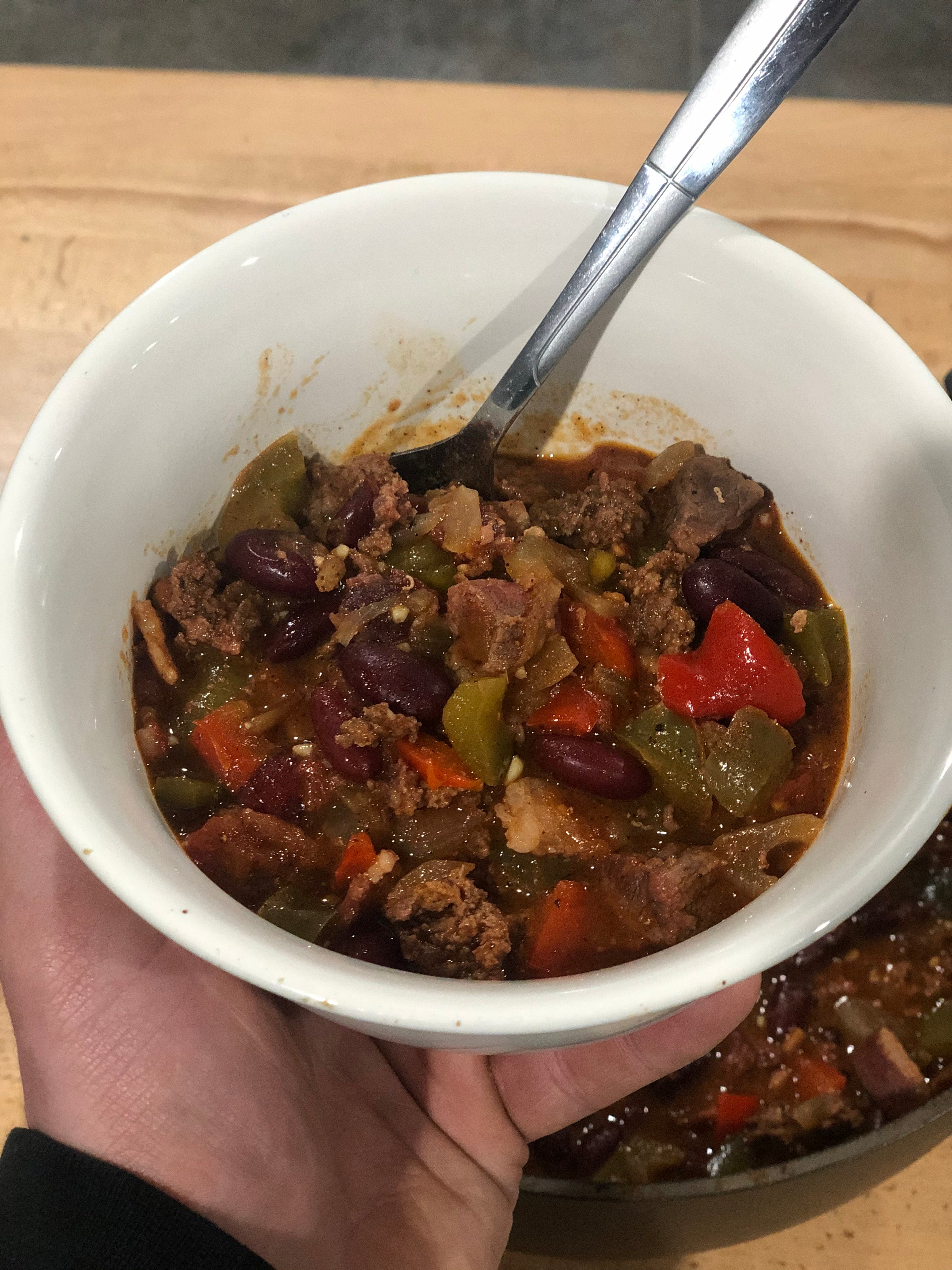 Ingredients
1 lb

1 pack

1 lb

2 tbsp

4 tbsp

chili seasoning of choice

1

green pepper

1

red pepper

1

poblano pepper

1

jalapeno pepper

2

yellow onions

2 can

red kidney beans

1 can

diced tomatoes

2 can

whole peeled tomatoes

2 tbsp

garlic

1 tbsp

olive oil
Directions
Gather your ingredients

Chop up and fry the bacon until its about "halfway" done. Preheat your smoker to 225F.

While the bacon is frying, chop up your onions, green pepper and red pepper

Add the garlic, onion, green and red pepper to the bacon and fry for an additional 5-10 minutes until the veggies are softened

While the bacon and veggies are frying, season your ground beef with 2 tbsp of your chili seasoning, and the stew meat with 1 tbsp of your bourbon barrel smoked salt

Then, chop up your poblano and jalapeno peppers. The more seeds you keep, the spicier your chili will be!

Add everything (but the ground beef and stew meat) to your pot

This includes: the fried bacon and veggies, kidney beans, whole and diced tomatoes, poblano and jalapeno peppers, wagyu beef broth, 2 tbsp chili seasoning and 1 tbsp bourbon salt

Place the pot in your smoker, and on the grate above it, place the balled up ground beef and stew meat. This will give your meats a smokier flavor, and the chili will catch the drippings! Cook until the ground beef reaches an internal temperature of 145F.

Once the ground beef reaches 145, remove the meats from the smoker and chop them up into smaller pieces.

Add the ground beef and stew meat to your chili and turn the smoker up to 300F. Cook for another 60-90 minutes. For a soupier chili, add more of your homemade Wagyu beef broth!

You're ready to feast! Garnish your chili with whatever you prefer! Enjoy!